High-Pressure Gas-Quench Furnace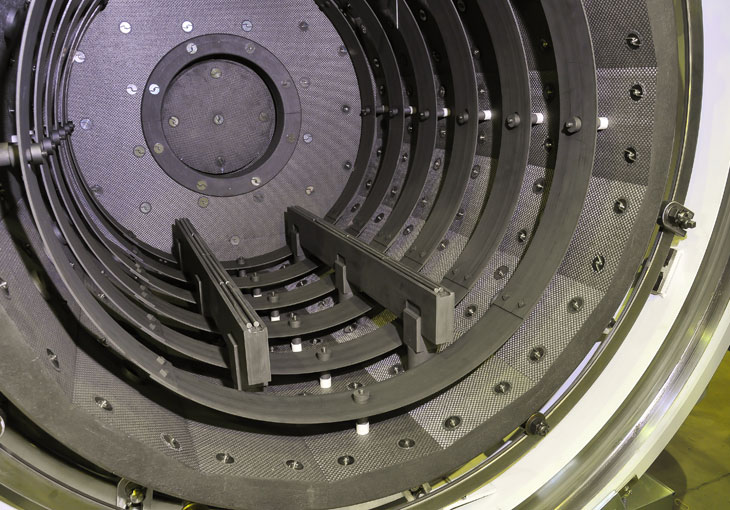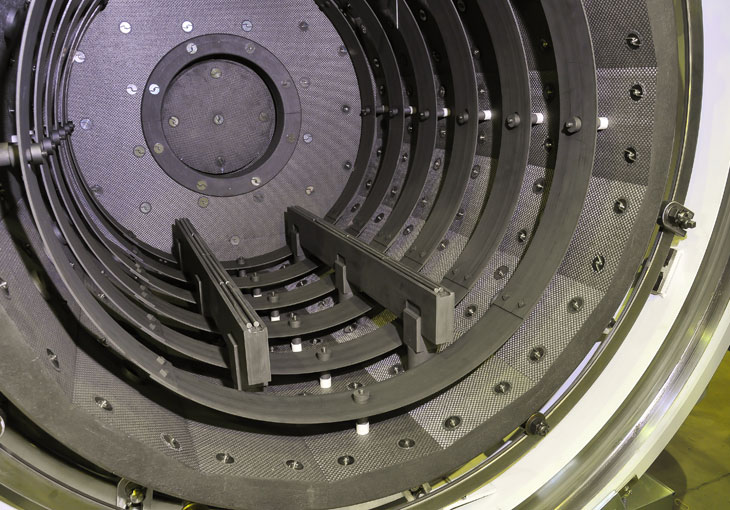 High Pressure Gas Quench
Vacuum Furnaces VPT and VVPT series
N2, Ar, He 2-6-10-15-25 bar
High pressure gas quenching of:

Hot working tool steels
Cold working tool steels
High speed steels

Oil hardened steel grades (AISI type 01, 02, 06, 07, 4140, 4340, 300M, etc.)
Vacuum Carburizing by FineCarb® and PreNitLPC® technologies
Tempering, annealing, solution heat treating of super alloys, brazing and sintering
Advantages of HPGQ vacuum furnaces
Shorter cycle time, increased throughput and precise monitoring of the process.
Compact design with internal gas cooling system:

Reduces power and gas consumption
Reduces installation area
Reduces installation and start uptime

Compact pumping system with easy access for maintenance.
Door locking system with a clamping ring and lip seal engineered for high pressure operation and improved lifetime.
Cylindrical heating chamber enables heat treating of oversized loads.
Light and curved graphite heating elements surround the load from all sides, provide fast and uniform heating throughout the working space; they are made per latest technologies providing reliable and prolonged life time of the heating system.
Temperature uniformity according to AMS 2750D, better than ±S°C (or ±3°C at austenitization temperature); the furnace is equipped with test ports for SAT and TUS sensors. The furnace meets SAT and TUS requirements in accordance with AMS 2750D.
Efficient cooling system with profiled distributed around the heating chamber and door provides for uniform quenching.
Patented convection heating system with pneumatically driven gas nozzles flaps assure smooth operation of the system even under work environment contaminated with sublimatem.
Con Flap™ system enhances convection heating and provides for 40% time savings when heating densely packed loads in the 800°C temperature range.
Convection heating system enables tempering of the load in one process, thus making the furnace more flexible.
Fast and uniform cooling throughout the load in one process, thus making the furnace more flexible. Nozzle flaps enable different cooling patterns. Depending on the load configuration, it can be quenched with gas flow from all nozzles, or directionally from top and bottom, or from sides only.
Superior quenching rate and uniform gas flow through the load, makes the furnace a perfect tool for heat treatment of low alloyed steels, carburized and HSLA steels.
The furnaces meet AMS 2750D, AMS 2769 standards as well as European and US safety requirements.
Optionally available with FineCarb® carburizing with pre-nitriding PreNitLPC® and vacuum nitriding Fine LPN.
Available with horizontal and vertical loading configuration.
Available with auto-controlled isothermal quenching (martempering) package, supported by convection heating for precise temperature control; essential feature in present days thermal processing of dies.
Bainitic quenching technology available for FineCarb® results in reduced hardening distortions.
Furnaces exceeds the requirements of GM and Ford norms (DC9999-1, AMTDDC201 O) for heat treatment of H 13 steel with cooling rate up to 120°C/min.
Control system advantages
Fully automated furnace operation controlled by PLC (Programmable Logic Controller) and IPC (Industrial PC-class computer).
LCD touch screen visually displays all technological parameters of heat treatment processes.
Large capacity of a hard disc (HDD) recording of unlimited number of recipes. It eliminates errors resulting from creating new recipes by a furnace operator.
All process data are recorded, and can be displayed as a diagrams on a separate screen or saved on HDD or a CD.
Export of historical data and alarm messages to external system for further analysis (e.g. to *.csv files).
Easy integration with any date base.
The furnace is equipped with the internal Ethernet network; remote furnace service is available through Internet or modem connection using dedicated software.
Optionally the control system can be equipped with advanced batch reporting and history analyzing software which can present data using templates for standard MS Office applications, such as Word and Excel.
A separate diagnostic screen reminds about maintenance requirements of individual components of the furnace.
Energy efficient Power Management System to control heating and cooling capacity of the furnaces.
SimVac simulation software supporting FineCarb® and PreNit® vacuum carburizing technologies.
G-Quench Pro software for simulation of hardness of tool steels.