CaseMaster Evolution, an Advanced Vacuum Oil-Gas Quench Furnace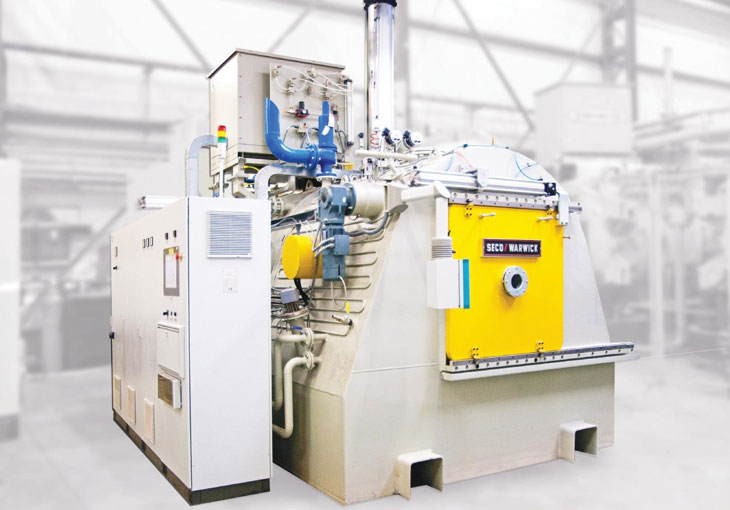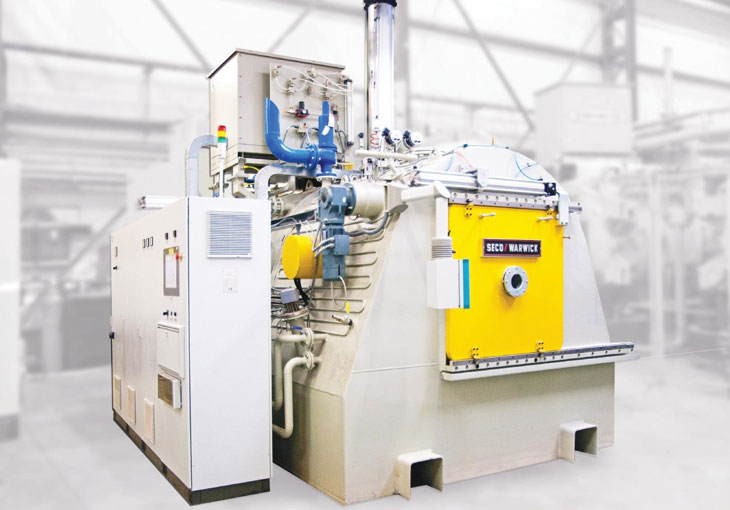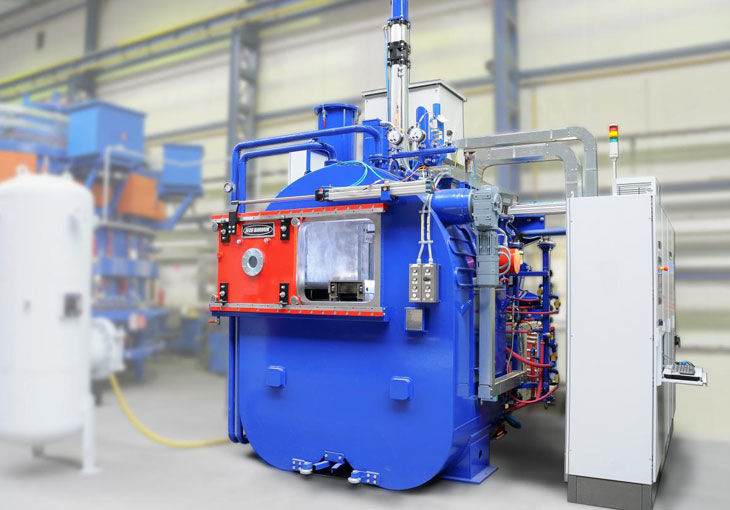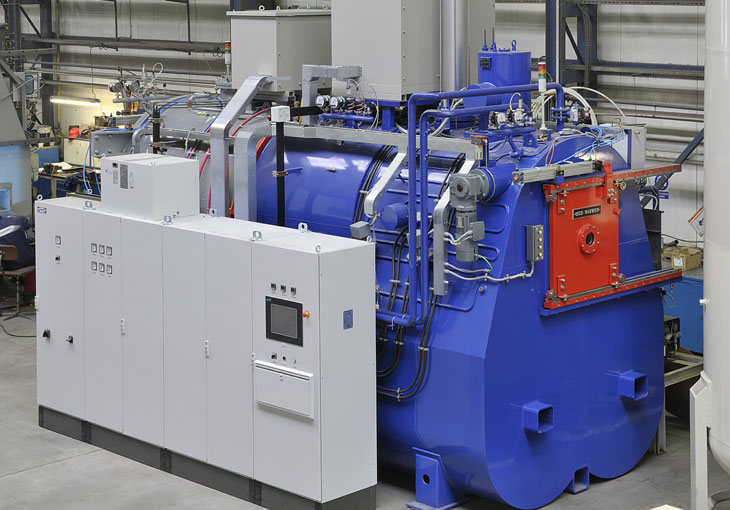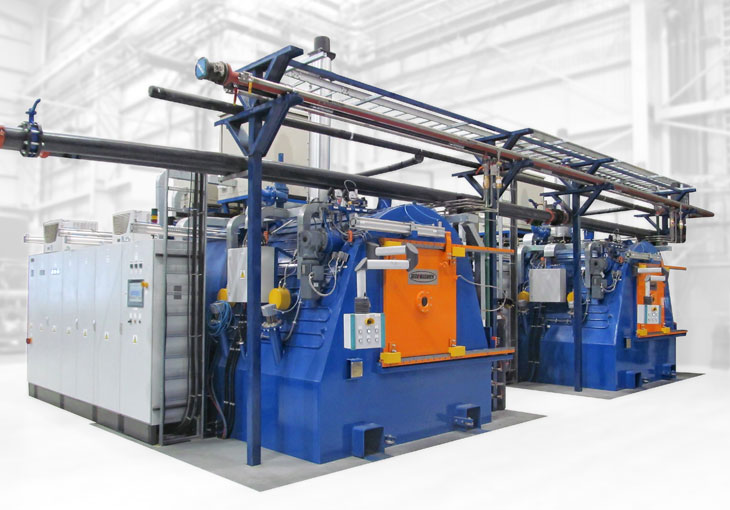 The CaseMaster Evolution (CME) integral quench vacuum furnace has been designed with state-of-the-art construction and selections for two or three chambers to provide maximum productivity flexibility in heat treating and continuous batch processing. With dozens of CME oil quench vacuum heat treating furnaces installed, SECO/VACUUM is currently at the forefront of international vacuum heat treating market. A number of top international manufacturing companies that needed superior mechanical properties compared the CME with conventional case hardening methods, have increased their production capacities with CaseMaster Evolution designed by SECO/VACUUM.
There are two types of CaseMaster Evolution. The two-chamber furnace, called D type, provides a dual-chamber vacuum-quench furnace with one for vacuum heat-treatment processing and a second chamber for oil or gas quenching. The three-chamber furnace, called T type, provides the same chambers as the D type plus a third pre-heating, pre-oxidation chamber that can be used with PreNitLPC® for faster processing. Cooling may be carried out in two ways: under gas quench or in hardening oil quench. Durable graphite insulation and heating elements provide long, reliable service in this heavy-duty furnace designed for industrial applications.

The high-efficiency oil quench has an agitation system that ensures excellent oil penetration through the workload which results in uniform and fast workload cooling. The gas system, pump system, power supply and cooling systems are generously sized to enable a wide range of industrial heat treatment implementations.

Industries
Aviation
Automotive
Wind Energy
Machine-building
Bearings
Commercial Heat Treating
Applicable Technologies
Hardening with oil quench or gas quench
Low pressure carburizing using FineCarb® with oil or gas quench
High-temperature carburizing up to 1050°C using PreNitLPC® for common case hardening steels with oil or gas quench
Carbonitriding with oil quench
Bright hardening
Oxidation in the preheating chamber
Annealing (with gas pre-cooling)
Tempering
Advantages
Heat treatment produces uniform, high quality parts
High temperature carburizing for typical or special steels
High-speed & economic processing
Very low consumption of processing mediums
Nominal temperature up to 1320ºC
Provides oil and gas quench
Reduction and repeatability of distortion
Process simulators & fully automated processing
Flexibility, no furnace idling periods, quick start up & shut down of the furnace
Meets AMS 2750E, AMS 2759, BAC 5621
Very short workload-transport time within the furnace, fast opening & closing of internal doors
Compact, modular design
New design of an oil circulation system enabling maximum uniformity and rate of cooling
Greatly improved carburizing quality and speed using FineCarb® and PreNitLPC®
Continuous batch processing with 3-chamber models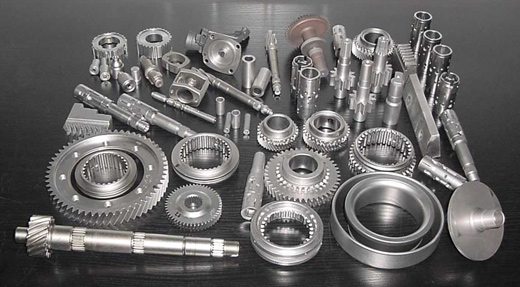 Typical parts processed in CaseMaster Evolution® furnaces
The CaseMaster Evolution is uniquely positioned to improve efficiency in many heat treating operations by providing multi-chamber capabilities and sealed oil quench and gas quench which open new workflow and process capabilities.

SecoVac Automatic Furnace Control System

Maintenance and Control Features
Functional, simple to use, intuitive system
Full visualization and comprehensive management of emergency situations
Automatic generation of predefined reports (graphic or numeric) and with export to external files
Hierarchy of user-access levels
Custom setup of all data analysis charts and printouts
Full integration with SCADA software – no need of extra software
Production Features
Friendly programming of the furnace system processes
Advanced process management with unlimited number of recipes
System safeguards to wrong technological program selections
Operation Features
Operation time counters, ability to plan periodic reviews
Viability monitoring of the thermocouples
Stored history of equipment operation
Media consumption monitoring, with optional refill warnings
Two-stage warning alarm – color coding allows immediate identification of alerts
Easy system backups
Management Features
Integration with higher-level management systems −
Data security with different levels of user's access
Optimization of production on the basis of stored information
Reduced operator workload by automation of the production
Programmable for a time/date delay to begin processing with an option for GSM (Global System for Mobile communication) notification
Long-term data logging and remote access to archived information
Application browser provides "read – only" access to data
Product Matrix
Style1
(D/T)

4

6

9

12



Width x Height x Length – inches (mm)

VIP Models



x

x



Workload Size2

12 x 12 x 18
(300 x 300 x 460)

16 x 16 x 24
(400 x 400 x 600)

24 x 24 x 36
(600 x 600 x 900)

36 x 36 x 48
(600 x 600 x 1200)

Maximum Gross Load – lbs. (kg)

200
(90)

450
(200)

1350
(600)

2650
(1200)

Notes:
See product brochure for complete details.
Custom sizes available
Auxiliary equipment
High & low tempering furnaces
Washing machines
External closed loop water cooling system
Mobile loading and unloading machines
Loading trays
Gas buffer tanks
And more -- Ask a Salesman for a complete list.
FineCarb® – low pressure carburizing technology

Low pressure carburizing is characterized by an extraordinarily high coefficient of carbon transfer. In the initial phase of carburizing, for example, at 950°C (1740°F), the carbon stream directed at the workpiece surface reaches the rate of 250 g/m2h. This means that, in the case of thin carburization layers, the process is considerably faster than the gas carburizing process.

Advantages
Purity of process because of multicomponent carburizing gases mixture
Excellent carbon penetration when carburizing densely packed loads & complex shaped workpieces or blind holes parts
Repeatable, high-speed processing
Very low consumption of carburizing gases
Better quality thanks to no grain boundary oxidation & precise case uniformity
Process-simulation software package, SimVac (carburizing & gas quench simulator),
Simplicity of carburizing of aircraft & alloy steels i.e.: Pyrowear® Alloy 57, M-50 NIL, SAE 9310, Ferrium® C61 alloy etc.
Compatible with NADCAP
High carbon potential of carburizing gas mixture (C2H2, C2H4, H2) - other gas mixtures also available
Green manufacturing process – no CO2 emission
PreNitLPC® – high speed and economic vacuum carburizing Pre-nitriding for low pressure carburizing, named PreNitLPC®, allows the expansion of the application of FineCarb® family of LPC vacuum carburizing technology toward higher carburizing temperatures and wider range of steel grades. PreNitLPC® is a modern, fast and economic alternative of low pressure carburizing, which allows significant intensifications of this process.

PreNitLPC® is a unique process offering high value in both cost of operation and process efficiency:
Reduced carburizing cycle time
Lower process cost
No inter-granular oxidation
Excellent uniformity
Optimum carbon penetration
No CO2 emissions
Environmentally-friendly
For every 100 processes (i.e. for 0.6 mm effective case depth, or ECD) according to traditional carburizing methods PreNitLPC® technology can offer users up to 40% in increased process efficiency. Optimum carbon penetration allows efficient heat treatment of complex shapes and the densely packed loads with superior case uniformity.

SimVac™ – carburizing and quenching simulator

This process-simulation software package enables users to design and simulate the carburizing and quenching processes (with SimCarb and SimHard, respectively), prior to running trials. Optimal design and checking of process parameters will help save process time and avoid waste from scrapped parts.

Advantages
Optimal planning for segments of carburizing process, divided into: carburizing and diffusion stages
Calculations based on steel grade, size and shape of parts as well as cooling profile for hardening
Automatic or manual simulation operation mode
Simulated carbon profile comparison
Intuitive graphical interface
Compatible with SecoVac – furnace control system

Request Quote/Info