Introducing SECO/VACUUM: The Vacuum Heat Treat Furnace Company for North American
Who is SECO/VACUUM?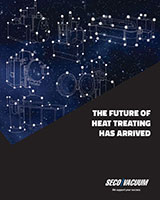 SECO/VACUUM Technologies (SVT) is an entirely new company from SECO/WARWICK designed to provide vacuum furnaces and related professional services in North America (USA, Canada, and Mexico) to ensure that we deliver the best experience to our American customers:
Focusing on North America for sales and support
Offering production-size demonstration furnaces for process validation
Expediting delivery of all components, controls, and support documentation
Providing US-based local service teams, including installation and maintenance support
Including aggressive pricing and delivery programs to meet your project needs
Read more about SECO/VACUUM
---
SECO/VACUUM Furnace Products
SVT offers high-quality vacuum furnace systems designed specifically for our North American customers, including (but not limited to) the following with special emphasis on these three important product lines:
Vector Vacuum Furnace: Single chamber, high-pressure gas-quench vacuum furnace, that is a versatile "go-to" workhorse tackling multiple processes and applications.
CaseMaster Evolution: Multi-chamber, high-volume vacuum oil quench furnace, designed especially for low pressure carburizing and hardening processes.
UniCase Master: High-volume, continuous, in-line vacuum furnace for low-pressure carburizing of automotive gears.

---
VIP Program
The SVT Value Incentive Program (VIP) offers our Vector single-chamber vacuum furnace system in the most common sizes and quench pressures, including the following benefits:
Configured for fast delivery, from purchase order to your dock
3-year warranty at no additional cost
An exceptional package of professional services
Click here for more information

Four of the most popular, value-packed Vector furnace models are configured for fast delivery!
Learn More.
Webinar
---
Vacuum Furnace Quenching Techniques
Oil quenching or gas quenching? Heat treaters often wonder which one is better for meeting properties while minimizing distortion in their vacuum processed parts. This 40-minute webinar...
Download the recording
---

Request Quote/Info