Seco "VIP" (Value Incentive Program)
VIP: the Best Package Deal on Our Most Common High-Pressure Gas-Quench Vacuum Furnace Models
What is the VIP Program?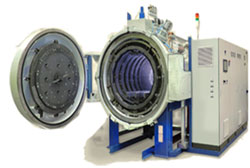 The VIP program is a high-value, sales-and-service package to companies in North America for the most common Vector vacuum furnace models. SECO's Value Incentive Program provides several of the most common sizes and configurations of our SECO Vector vacuum furnace to customers in the North America (USA-Canada-Mexico) with the best package deal you can get anywhere:
3-year warranty
Very competitive price
Configured for fast delivery
Best support in the industry

Factory Training on your parts
Process production parts or test parts at our facility to prove the process
Locally sourceable replacement components
US-based service
English-based everything
What is the Vector Vacuum Furnace?
SECO/Vacuum Technologies VECTOR™ line is a high-efficiency heat treating vacuum furnace using high pressure gas quench. Featuring: compact design; orbital cooling, no rotary shaft seals, and carbon fiber composite hardboard insulation.
Two standard sizes for

VIP sales

(covering most applications)

24 x 24 x 36" Hot Zone with 2 - 15 bar cooling pressure
36 x 36 x 48" Hot Zone with 2 - 15 bar cooling pressure

Options for diffusion pump, Fine Carb, PreNit, Convection Fan
Top performance features from our HPGS (High Pressure Gas Quench) system
Who is SECO/Vacuum Technologies?

SECO/Vacuum Technologies is an entirely new company strictly for selling SECO/WARWICK vacuum heat treat furnaces in North America. It delivers an American experience to our North American customers. SEOC/WARWICK is one of the top international vacuum furnace manufacturers with more than 1000 furnaces sold globally and many hundreds in the USA.
You need to know how much this offer is worth:
Click here to get a quick quote

Need a different size, features, or furnace types? You can still get a great deal.
Need more information about the Vector Vacuum Heat Treat Furnaces: Vector Vacuum Furnaces have a wide range of Processes for use is In commercial heat treating, aerospace, automotive, powder metallurgy (PM), and other industries requiring precision clean heat treated parts.

Brazing
Annealing
Hardening
Low Pressure Carburizing & Nitriding
Solution heat treating
Sintering
Tempering
See all details on the Vector furnace click here