ZeroFlow® Gas Nitriding Furnace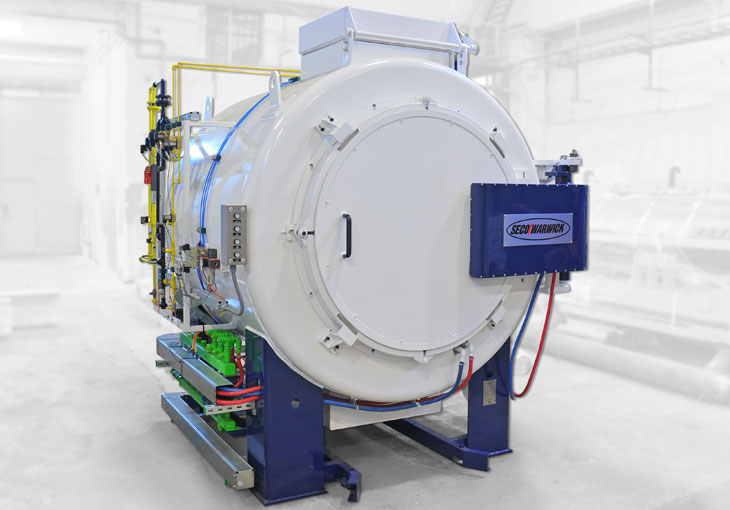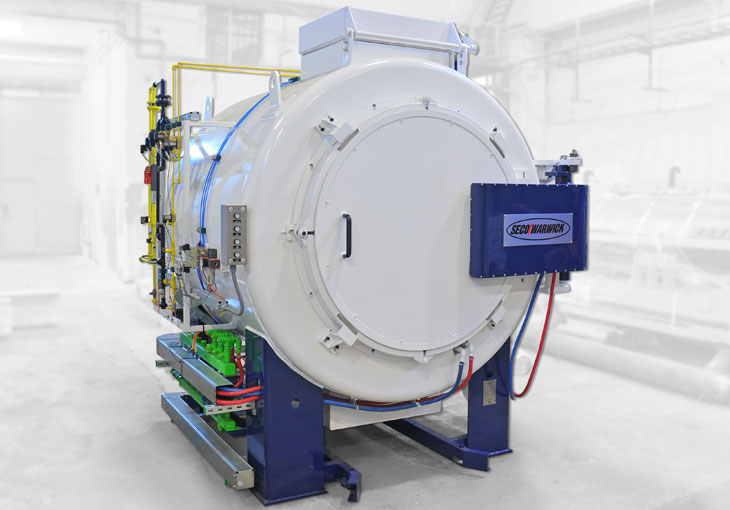 Single-chamber vacuum furnace with ZeroFlow® for regulated gas nitriding of machine parts, vehicles, aircraft and tools.
Batch Gas-Nitriding Vacuum Furnaces with ZeroFlow®
SECO/VACUUM offers ZeroFlow® gas nitriding furnaces in a variety of styles and models. Our proprietary ZeroFlow® technology using only ammonia as a process gas thereby reducing gas usage and minimizes emissions.

SECO's vacuum nitriding furnaces achieve optimum results by using uniform high convection heating, precision nitriding potential and ammonia control, along with advanced load mechanics to process a variety of metals.

Gas Nitriding Processes for Vacuum Nitriding Furnaces
ZeroFlow
Nitriding
Nitrocarburizing
Oxidation
Nitrosulfurizing
Tempering
Annealing
Furnace Styles For Nitriding/NitroCarburizing
Horizontal front-loading retort furnaces
Vertical pit-style retort furnaces
Furnace Accessories
Vacuum purge
PLC controller
Benefits of Nitriding with ZeroFlow
Lower operating costs
Attractive Return-on-Investment (ROI)
Control of case depth
Control of nitride layer formation (including white layer)
Two-stage nitriding process without additions of dissociated ammonia or nitrogen
Simple ammonia-gas flow control
Advanced process monitoring/control
Low gas consumption
Reduced gas emissions (over alternative gas nitriding processes)
In-situ process control
Sophisticated process monitoring/recording and historical trending with a user-friendly HMI
Industries Served and Typical ZeroFlow® Nitrided Parts
Automotive, Racing, Heavy & Light Truck, Off -Road (gears, crankshafts, injectors, piston rods)
Aerospace/Aircraft/Rotocraft/Spacecraft/Military/Defense (gears, pinions, actuators)
Industrial Machinery & Goods (casting plates, locating pins, springs)
Tool & Die (hot working dies, high-speed tool steel cutters
Materials
Low & Medium Alloy Steels (41xx, 43xx, 51xx, 86xx, 93xx series)
Nitralloy® Alloys
Stainless Steels (300 & 400 series, precipitation hardening grades)
Tool Steels (H-series, M-series)
Iron (ductile, gray)
Horizontal and vertical retort furnaces for gas nitriding
Features
Vacuum purge for removal of air form the retort and for removal of the nitriding atmosphere at the end of the cycle
Automatic gas nitriding flow cool added a controller amount (0 - 100%) of ammonia gas, on demand.
Supervisory control system to continuously adjust and monitor process parameters
Lowest ammonia consumption in the industry
Burn-off stack to neutralize gas emissions from the system
Low gas consumption (nitrogen or other process gases) for applications other than nitriding.
Horizontal
Model #
Useful Dimensions
in(mm)
Gross Load Weight
lbs(kg)
Working Temperature
°F(°C)
Temperature Uniformity
°F(°C)
Number of Heating Zones
Furnace Heating Power
(kW)

---

HRNe*-60.60.90-650-6-ZF
24x24x36 (600x600x900)
1320
(600)
300-1300
(150-700)
±5
one
75
HRNe-90.80.120-650-15-ZF
36x32x48 (900x800x1200)
3300
(1500)
300-1300
(150-700)
±5
three
150
HRNe-100.100.150-650-25-ZF
39x39x59 (1000x1000x1500)
5500
(2500)
300-1300
(150-700)
±5
three
240
*HRNe - Horizontal Retort Nitrider - Electrically Heated
Vertical
Model #
Diameter in(mm)
Height in(mm)
Gross Load Weight
lbs(kg)
Working Temperature
°F(°C)
Temperature Uniformity
°F(°C)
Number of Heating Zones
Furnace Heating Power
(kW)

---

VRNe*-60.90-650-6-ZF
24
(600)
36
(900)
1320
(600)
300-1300
(150-700)
±5
two
40
VRNe-80.120-650-12-ZF
32
(800)
48
(1200)
2645
(1200)
300-1300
(150-700)
±5
two
80
VRNe-100.150.650-30-ZF
39
(1000)
59
(1500)
5500
(2500)
300-1300
(150-700)
±5
two
115
VRNe-120.150-650-30-ZF
48
(1200)
59
(1500)
6600
(3000)
300-1300
(150-700)
±5
two
135
VRNe-140.250-650-45-ZF
55
(1400)
98
(2500)
9900
(4500)
300-1300
(150-700)
±5
three
210
VRNe-160.250-650-60-ZF
42
(1600)
98
(2500)
13200
(6000)
300-1300
(150-700)
±5
three
225
*VRNe - Vertical Retort Nitrider - Electrically Heated

Request Quote/Info