Vector, An Advanced Vacuum Furnace with High Pressure Gas Quench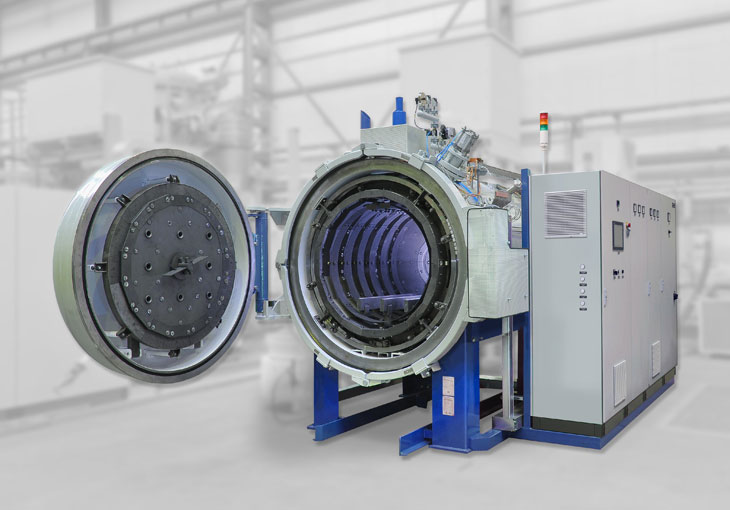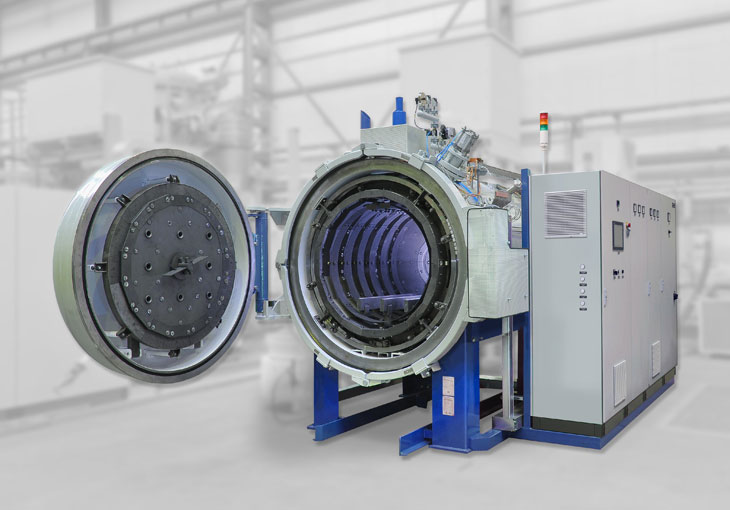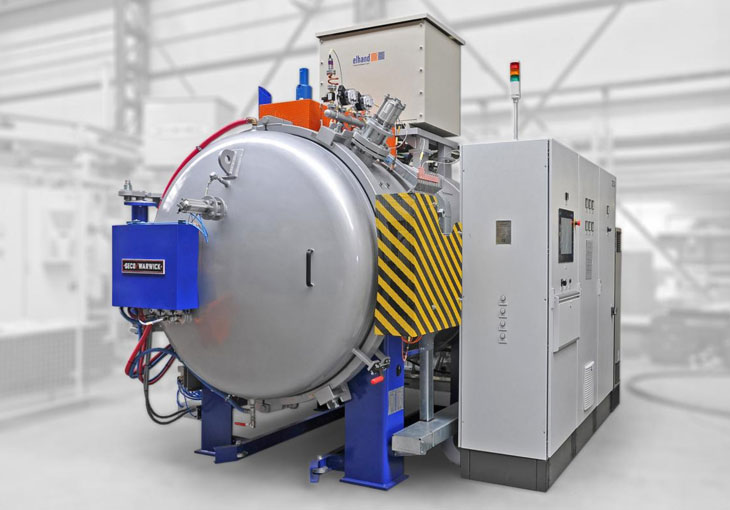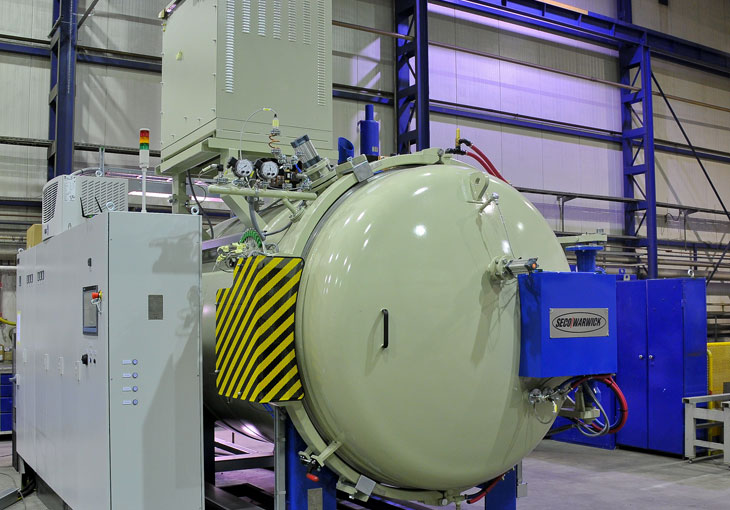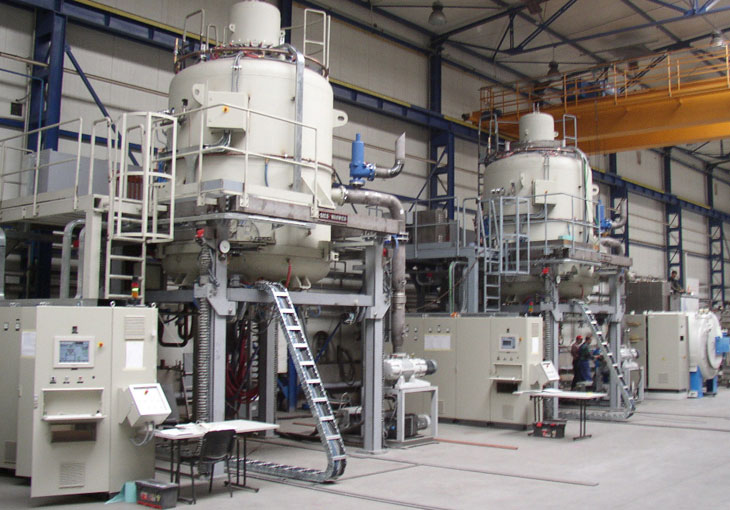 Vector is a single-chamber gas quenching vacuum furnace using high pressure quench (2 to 25 bar) which can be used for wide variety of heat treating processes and applications. It provides important capabilities for producing high-uniformity in heat treated parts, high consistency in workloads, and high speeds in batch processing with low consumption of power and process gases.
Vector high pressure gas quenching furnaces are the ideal solution for heat treating. Vector is a vacuum furnace with round graphite hot zone. These furnaces can be used for most standard hardening, tempering, annealing, solution heat treating, brazing and sintering. Additionally, they can be used with SECO/VACUUM's optional patented vacuum-carburizing technologies (FineCarb®) and prenitriding (PreNit®) and the SimVac® process simulation package is included at no extra charge. With hundreds of systems installed worldwide, SECO/VACUUM's high pressure quench furnaces have proven record of high performance technology.
Benefits
Wide range of heat treatment processes and applications
High speed cycles with high pressure gas quench
Low consumption of energy, process gases and other utilities
Environmentally friendly with low emissions of process gases
Simple design, modular, fitted and adjusted to tasks and a plant conditions
Guaranteed quality and repeatable process results
Predictive maintenance
Remote control and monitoring
Fast delivery and simple installation
Customizable
Processes
Annealing
Brazing
Hardening
Low pressure carburizing & nitriding (LPC & LPN)
Normalizing
Solution heat treating
Sintering
Tempering
Materials
Tool steels
Carburizing steels
HSLA
Alloyed steels
Stainless steels
Alloys and super alloys
Titanium and titanium alloy
Industries
Aviation
Automotive
Machine
Tool
Energy
Medical
Nuclear
Electronic
Metallurgy
Commercial heat treatment
Specialty Applications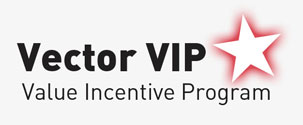 Online order viewport, showing progress of your furnace order in real time
3-year warranty at no additional cost
USA-sourced replacement components
Learn More.
The Vector is a single chamber horizontal vacuum furnace that complies industrial standards related to heat treatment equipment and has sold many hundreds of units worldwide. It comes with a full range of options and accessories for performing a wide range of functions for heat treaters and can be customized for special functions.
Features
Standard horizontal capacity from 200 to 2,500 kg and more (440 to 5,500 lbs)
Standard vertical capacity: 1,500 kg (3,300 lbs) and 2,000 kg (4,400 lbs)
Graphite or metal hot zone with maximum vacuum of 10-2 to 10-5/10-6 mbar
Quenching pressure: from 2 up to 25 bar
Quenching gases: N2, Ar, He, H2
The best operational features including uniform heating and quenching, ability to harden a wide range of materials and cross-sections
ConFlapTM system supporting convection heating
Optional equipment for vacuum carburizing technology: FineCarb® / PreNitLPC® and vacuum nitriding LPN
Computer control system SecoVac, operator-friendly
AMS2750 specification readiness
SecoVac Automatic Furnace Control System

Maintenance and Control Features
Functional, simple to use, intuitive system
Uninterruptible Power System (UPS)
Full visualization and comprehensive management of emergency situations
Automatic generation of predefined reports (graphic or numeric) and with export to external files
Hierarchy of user-access levels
Remote control and monitoring
Custom setup of all data analysis charts and printouts
Full integration with SCADA software – no need of extra software
Production Features
Friendly programming of the furnace system processes
Advanced process management with unlimited number of recipes
System safeguards to wrong technological program selections
Operation Features
Operation time counters, ability to plan periodic reviews
Multiple languages
Viability monitoring of the thermocouples
Stored history of equipment operation
Media consumption monitoring, with optional refill warnings
Two-stage warning alarm – color coding allows immediate identification of alerts
Easy system backups
Management Features
Integration with higher-level management systems
Data security with different levels of user's access
Optimization of production on the basis of stored information
Reduced operator workload by automation of the production
Programmable for a time/date delay to begin processing with an option for GSM (Global System for Mobile communication) notification
Long-term data logging and remote access to archived information
Application browser provides "read – only" access to data
Models
Style1

Horzontal Configuration

Vertical Configuration

Model

446

669

9912
1212
1515
VIP Models Available



Yes
Yes





Workload Size2:
WxHxL or ØxH
Inches


16 x 16 x 24

24 x 24 x 36

36 x 36 x 48

50 x 50

60 x 60

Maximum Gross Load lbs.

450

1300

2650

3300

4400


Notes:

See product brochure for complete details.

Custom sizes, special features and system configurations available
Dedicated Auxiliary Equipment
Manual and/or automatic loaders
Cast metal and/or carbon composite fixtures
Closed loop water cooling system
Gas buffer tank
Helium recycling system
Noise protection of the pumping system
Inlet gas dew point measuring system
Temperature uniformity frame
Time-saving spare parts set
Options

Furnace Options
Vertical orientation
Graphite or metal hot zone
Improved temperature uniformity
Multi-zone temperature control
Load thermocouples port and control
High temperature operation
High vacuum or ultra-high vacuum
Low and cryogenic-temperature trap
Partial pressure control
Cooling gas flow direction
Color selection
Control System Options
Selection of PLC and IPC control system
Power management control system
Independent data recording
Remote control and monitoring
Air-conditioned control cabinet
Optional Processes
Low-pressure carburizing (LPC), - FineCarb®
High temperature LPC - PreNitLPC®
Low-pressure nitriding - FineLPN®
Nitriding of stainless steel - SuperExpanite
Isothermal and controlled quenching
Deep freezing
Tempering
Low-pressure carburizing simulation software - SimCarb
Case hardening simulation software - Sim Hard
Tool steel's heat treatment simulation software - G-Quench Pro

Request Quote/Info